Nanakanba
<

Feature: About Nanakanba

>

This lineup of the main junmai and junmai ginjo sake, which uses the yeast No. 901, has a clean aroma that doesn't overpower your food, while its umami serves as the star of your meal. It also has a refreshing aftertaste that enhances other dishes as well. The sake has stable quality born from the technique of the Izumo toji (master brewers) and a proper taste that won't falter when it's enjoyed as warm sake.

Many variations of Nanakanba have won awards at the Chugoku Sake Awards, National Kan Sake Contest, and competitions in Europe and Hong Kong.
<

History: The Origins of Nanakanba

>

Symboli Ranch and the Emperor, Symboli Rudolf: the Wada and Tamura Families' Bond

Symboli Rudolf was the strongest racehorse of the 20th century. He was called "Nanakanba" and "The Emperor" due to his indisputable strength. "Symboli" is the name added to all horses from the Symboli Ranch, and "Rudolf" refers to Rudolf I, the Holy Roman Emperor. He debuted at the Niigata Racecourse's newcomer race in 1983. The following year, he was the first undefeated Triple Crown at the 4–year–old Classics (current 3–year–old Classics). Afterwards, he won GI races again and again, achieving 7 GI victories, the highest number in history. But Yuji Nohira, who was Symboli Rudolf's trainer, said, "There are no certainties in horseracing, but there are certainties for that horse." These words are still repeated today.

The Symboli Ranch and Hikami Sake Brewery's relationship goes back to when Rudolf was active in 1980. Although Symboli Ranch is a famous ranch with locations in both Narita, Chiba and Hidaka, Hokkaido, its roots go back to Shimane Prefecture. The owners, the Wada family, are from Oda City in Shimane Prefecture, and they are parishioners of Mononobe Shrine, which is located in the same city. At this shrine, the Wada family's 2nd–generation owner, Tomohiro Wada, offered a statue of the horse Partholon. Partholon was Rudolf's father, a thoroughbred whose bloodline created an era in the Japanese horseracing world. Takahiro Wada, who was the Wada family's 3rd–generation owner, married Keiko, the younger sister of our brewery's 15th–generation owner, Akio Tamura. They married in Shimane on February 11, 1986. This was right after Rudolf earned two consecutive wins at the Arima Kinen and became the first seven crown horse in history. Rudolf's great achievements and the marriage of the next owner overlapped, resulting in Nanakanba being enveloped in the Wada and Tamura families' joyous energy.
In 1996, 10 years after Rudolf achieved his seven consecutive wins, this curious twist of fate gave birth to our famous sake, Nanakanba.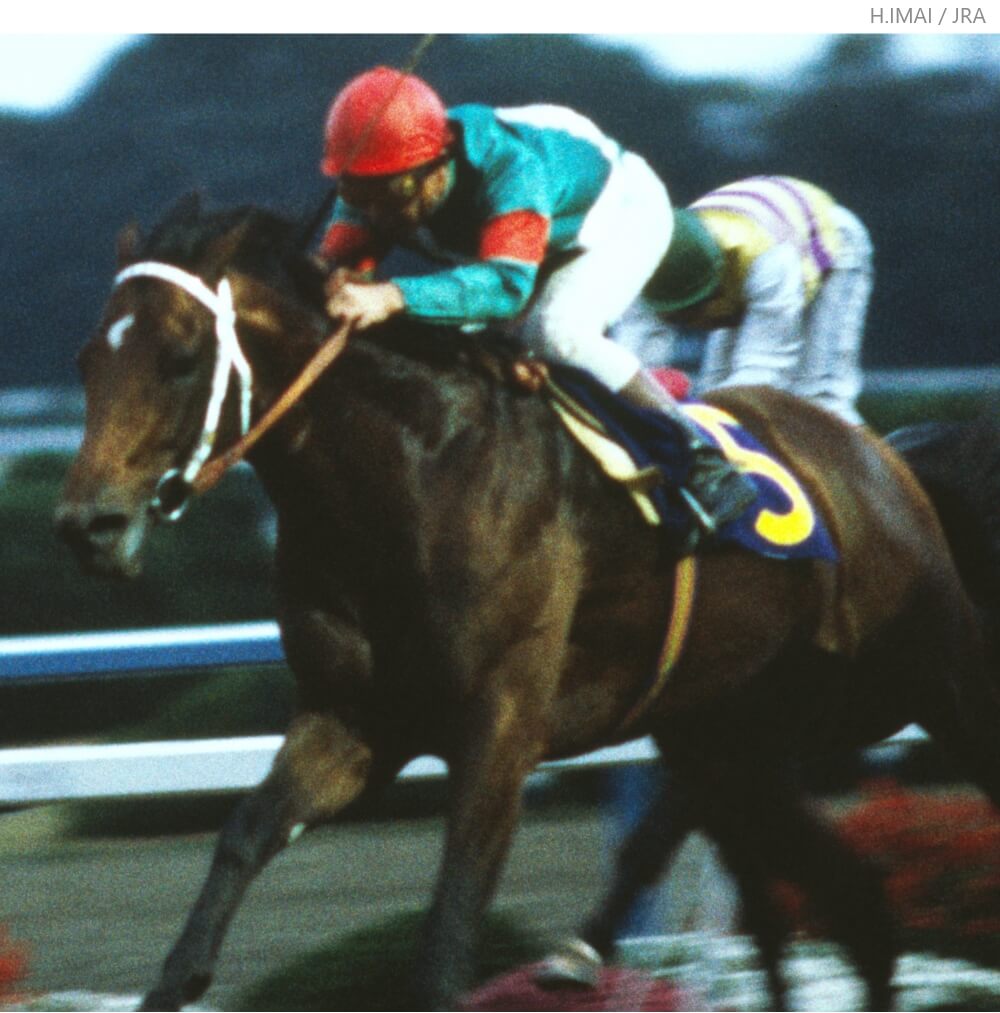 <

Symboli Rudolf's Total GI Victories

>
| | |
| --- | --- |
| 1984 | |
| April 15 | Satsuki Sho |
| May 27 | Tokyo Yushun (Japanese Derby) |
| November 11 | Kikuka Sho |
| December 23 | Arima Kinen (The Grand Prix) |
| 1985 | |
| April 29 | Tenno Sho (spring) |
| November 24 | Japan Cup |
| December 22 | Arima Kinen (The Grand Prix) |